Actor Uday Kiran Profile | Biography | Uday Kiran Movies List | Films | Videos | Uday kiran Photos

Tollywood Actor Uday Kiran, Uday Kiran Profile, Uday Kiran Biography, Uday Kiran Movies List, Uday Kiran Films, Uday Kiran Upcoming Movies, Uday Kiran Family Photos, Uday Kiran Videos


Uday Kiran:Background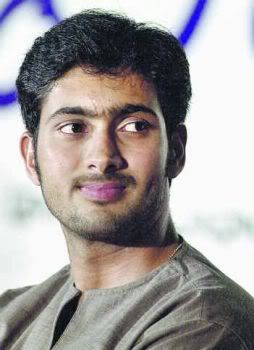 Uday Kiran is a famous actor in both telugu and tamil film Industry.Uday Kiran was born on 6th June 1980 in Andhra Pradesh, India.Uday Kiran's parents are V V K Murthy and Nirmala.The couple are having two children.Uday Kiran is the younger of the two children.The other child is a girl.Her name is Sridevi.Uday Kiran did his schooling at K V Picket School.He had done his degree in the Wesley College.


Uday Kiran:In Tollywood

Uday Kiran's height is average.He is having good physic.Uday Kiran's action is very nice.He is very cute and handsome hero.Uday Kiran is having much lady fan following.Uday Kiran is still aa batchelor.He is yet to marry.His marriage with Megastar Chiranjeevi's daughter was failed due to some reasons.That incident disturbed him a lot but he soon recovered from that incident and got back into the film industry.


Uday Kiran:From 2000 to 2004


Uday Kiran made his debut through the film Chitram.It was released in the year 2000.The story is about a couple who get married owing to an unplanned pregnancy.That movie was a flop but his action is nice in that movie.Later in the year 2001 the film Nuvvu Nenu was released in which his action was superb.The story is about a rich boy who falls in love with a poor girl.Uday Kiran got Film fare Best Actor award in Telugu for that film.Later in 2003 many films of him like Sreeram,Nee Sneham and Neeku Nenu Naaku Nuvvu are released which are average.Uday Kiran's Manasantha Nuvve is a big hit for him in Telugu Film Industry.He got great applaus for that film for his action.


Uday Kiran:From 2005 to 2008


Uday Kiran acted in the movie Avunanna Kaadanna which is the only movie of him in 2005.The film is an average film.The story is about a poor boy who loves a rich girl.It is a tragic story which ends in success of his love.In 2006 he did not acted in telugu movies but acted in Tamil movie Poi.The film was directed by K.Balachander and the movie was an average.Later in 2007 he acted in Talugu movie Viyyala Vari Kayyalu in which hw acted as a hairstylist.His action is nice in that movie but it is an average film for him.His second movie in Tamil is Vambu Sandal which is released in the year 2008 is a hit in his career.Uday Kiran acted in the movie Gunde Jhallumandi directed by Madan in the year 2008 which is also an average film in his career.